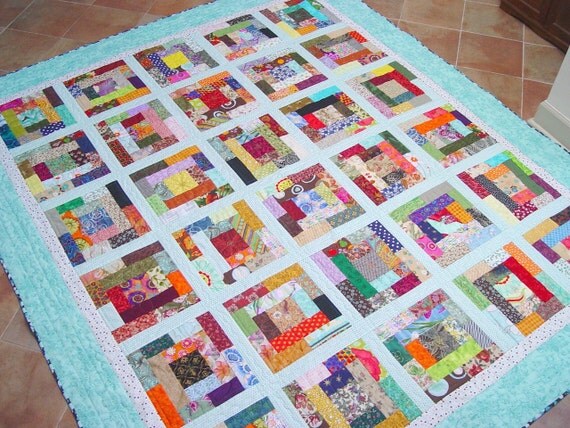 Sarah liked this quilt
I've mentioned before that I think one of the key components of a moderately successful craft business is having custom work available to customers. So I was terribly pleased when an Etsy customer contacted me about making a quilt for her.
She had seen this quilt in my Etsy shop and wondered if I could make a smaller version of it for her to hang in her new office.
(This quilt is a queen size, more details
here
).
I could not have been more thrilled to make one of these quilts for her, because it's such a fun pattern. The block is a traditional one called Crayon Box (pattern available
here
) I think it's nearly impossible to mess it up.
This is Sarah's custom quilt
The blocks are the same size as my shop quilt, there are just fewer of them.
Sarah liked the teal borders and sashing of the shop quilt but the fabric I used then is no longer available (darn you Joann's!!) so I used 2 fabrics from Laura Gunn's "Poppy" collection.
I like scrap bindings on a scrap quilt, so I included one here. For scrap borders, I like to butt the binding pieces together, rather than mitering them.
The quilting is pretty simple: straight lines in teal thread, and a free motion flower in the middle of the square blocks.
Since the front is a lot of little pieces, I thought a large scale print on the back would be nice. I had a large piece of this Amy Butler fabric (from the Soul Blossoms collection) plus a few coordinating pieces to fill in.
This picture shows the colors much better.
I'm going to attach a hanging sleeve this weekend, and then it will be ready to send off!