RHYTHMS OF CUBA
In a Latin flavored program, Music Director of La Orquesta Sinfónica Nacional de Cuba Enrique Pérez Mesa is joined by Principal Timpanist John Bannon in James Lewis'Cubanitis for solo timpani and orchestra on a program with Carlos Fariñas' Penthesilea: Preludio, Guido López-Gavilán's Ritmotiv, José Pablo Moncayo's Huapango and Prokofiev'sSymphony No. 1, Classical.
I mentioned in
this post
nearly a year ago that The Florida Orchestra was in development of a musical exchange with the National Orchestra of Cuba. Last fall, a woodwind quintet from the orchestra spent a few days in Havana giving concerts and master classes.
This coming week, the conductor of the Cuban orchestra is going to conduct our Masterworks series concert. It should be a fascinating experience on a number of levels. (More info available at The Florida Orchestra's
website
.)
As usual, we've already received the music to prepare ahead of time. It looks pretty interesting.
This is the work by Cuban composer Carlos Farinas. Apparently, I'm supposed to be able to read it.
It's been a long time since I saw a new composition that was hand written like this. Even college composition students use computer programs to print out the parts.
But we all know things are different in Cuba. I have to assume that either the composer does not own a computer, or doesn't have access to the music software.
If you look closely at measure 101, the time meter is 2/4 and a half. Interesting.
I'm also wondering if the conductor speaks any English. Maybe, maybe not. A very clear downbeat will make up for language barriers!
This portion of the program will be a relief: Prokofiev 1st Symphony (also known as "Classical"), mercifully a clean, published part. Now, don't be fooled-- it's a devilishly difficult piece to play. But it's readable!
I don't have a lot to report quilt-wise, as I am having a super busy end of the orchestra season. But I do have an exciting new custom order in the works, involving this fabric collection: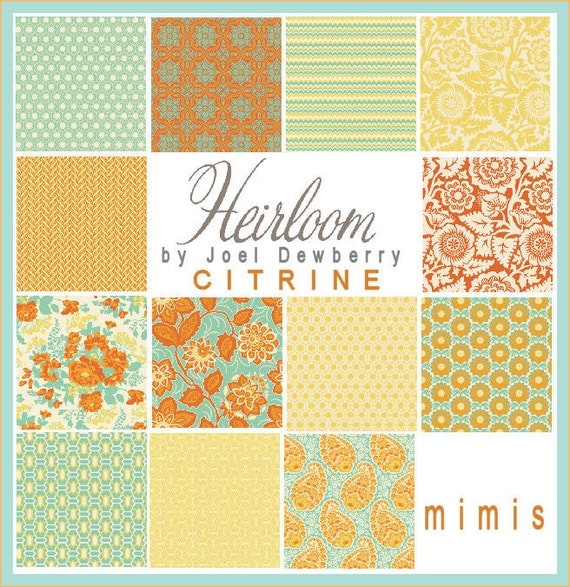 photo courtesy of Mimis.etsy.com