I'm just finishing up an interesting custom order from an Etsy customer.
Her mom died recently, and she wanted something quilted made from her mom's clothes.
But not a quilt, as one might expect.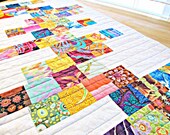 Rather, a table runner made in the style of the one pictured, (currently for sale in
my Etsy store
), but using her mom's clothes for the colored squares, and my white fabric for the background.
This was an intriguing idea, especially since I had no idea what the customer was going to send me.
She sent a very large box with a large selection of tops, slacks and jackets.
I decided to approach it like a T-shirt quilt. I used stabilizer (Pellon 906F) for all of the fabric pieces so at least they would ACT like quilting cotton when I cut them and sewed them together.
Here it is basted and ready for quilting.
It's pretty big, about 15 x 70"
This was a really unique project, especially since I don't do garment sewing and so never work outside of the realm of quilting cottons! But in the end I think it turned out nice, and I hope my customer really treasures it as a tribute to her mom.